About Renaissance Nurse -
In essence, the Renaissance was simply the green end of one of civilization's hardest winters.
~John Fowles~
 
Dr. Marsha E. Nickerson is a Public Health Nurse, Educator, and Musician. Her purpose in life is to spread love and positivity. She is a member of the Nickerson Sisters of Los Angeles and has performed all over the globe professionally with the vocal group for over 25 years. Marsha is an Associate Professor at Mount Saint Mary's University in the Nursing Department.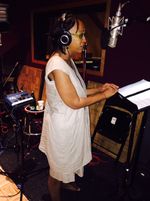 Saturday Night
Trust In Me (The Python Song) By Robert B. and Richard M. Sherman, Arranged By Kay F. Bowen 3:37
September Song  By  Maxwell Anderson and Kurt Weill, Arranged by Marsha E. Nickerson 4:11
I Dreamed A Dream By Claude-Michel Schönberg, Arranged by Bradley Baker  4:20
Sunday Morning
Come Sunday By Duke Ellington, Arranged by Robert Johnson and Kay Bowen 3:59
Deep River An African American Spiritual, Arranged By Kay Bowen and Marsha E. Nickerson 3:16
God is Peace By Anonymous 2:14
Executive Producers: Kay F. Bowen and Marsha E. Nickerson
Producers: Kay F. Bowen and Bradley Baker
Saturday Night Sunday Morning Project Personnel -
Personnel and Acknowledgements!
Vocals: Marsha E. Nickerson
Background Vocals: Kay F. Bowen
Piano: Robert Johnson
Bass: Michael Parnell
Cello: Marly Gonzalez and Teresa Rokos
Violin: Darius Dudley
Drums: Tom Weir
Percussion: Danae Bowen, Emily Bowen, Kay F. Bowen, Darius Dudley, Rachel Erickson, Marly Gonzalez, Teresa Rokos, Tom Weir
Vocal Master Coach: Bradley Baker
Photo Artists: Antoinette Brown and Rachel Erickson
Hair Stylist: Lee A. Harvey
Recorded @ Studio City Sound by Tom Weir
Acknowledgments: I wish to first thank Bradley Baker for encouraging me to record a CD, without your support and positivity I would not have attempted this endeavor. Your mastery and passion for music inspired me to do this and I thank you!!!  I also wish to thank Kay F. Bowen for signing on as my arranger and producer. Kay, I cannot thank you enough for your passion, creativity, and leadership on this project.  I wish to thank all of the musical and artistic personnel that aided us in this creative process; you were all patient, positive and fun!! Thank you, Tom Weir, for your incredible studio, drumming, cuteness, and vegetable soup!! I wish to thank all of my family, friends and professional colleagues at Mount Saint Mary's University for your support but I have to especially thank Cheryl Ascione, Bradley Baker, Bryan T. Bowen, Kay Bowen, Carla Brown, Lee Ambra Harvey, Josette Martial, J. Eileen McArow, Colleen Pierre- Louis, Gena Ponticelli, Susan Warren, Rosa Valenzuela-Doty, and Charles A. Zacharie for your enduring friendship, prayers, and constant positive support!! Despite my craziness, you deal with me!!  I Thank You, God for All and Everything~
This album is lovingly dedicated to Gerald Lee Nickerson and Frances Haynes Nickerson.  I will be forever grateful for our time together and you will never be forgotten!
4054 MEDIA GROUP